"Seeking to articulate notions of time and space ... viewer accesses the painting while being kept on edge by events occurring within; the original perception by body and mind, a starting point on a journey into the painting." Paul Pagk
Upcoming exhibition:
"CONSTRUCTED" is the Oct-Nov exhibition at Contemporary Art Galleries (CAG), University of Connecticut - October 14 - November 29, 2019

Group show featuring Beverly Fishman, Marilyn Lerner, Paul Pagk, Joanna Pousette-Dart and Cary Smith

Curated by Barry Rosenberg, Director of CAG

Artists Reception and Dialogue: October 17 @ 5pm (click here)

"Since the turn of this century, figuration and narrative painting have been dominating the discipline's cutting-edge trends. Today influential art periodicals are overflowing with images, reviews and stories concerning figurative painters, and it is predominantly this type of art that is being marketed at leading commercial galleries and showcased at museums around the world.

The 2019 Whitney Biennale confirmed a strong preference by the museum's curatorial team towards figurative and politically narrative works. However, it does appear that a counterrevolution featuring new tactics of abstraction is bubbling to the surface. Abstraction never took the ten-count.

CONSTRUCTED demonstrates geometric abstraction is reaching new heights in the 21st century. It isn't a redo of 20th century Modernism nor late-1980s Neo-Geo Conceptualism, but rather draws inspiration from the broader history of abstract painting and these artists personal and timely experiences.

All five painters are today considered mid-career. What's to be appreciate is that their art remains fresh deep into their careers and that they are today being reevaluated in light of abstract painting's resurgence."

Barry A. Rosenberg
Featured in the show Constructed are two large paintings - "La vie en rose", 2018 (oil on linen, 60 x 78 in/152 x 198 cm) & "In the city", 2018 (oil on linen, 70 x 70 in/ 178 x 178 cm), as well as two works on paper from 2019.
Current exhibition:
LA COULEUR, CAP Royan - France - July 5 to September 30, 2019 - Group show with Pierre Tal Coat, Pascal Ravel, Thomas Muller, Paul Pagk, Joel Denot, Albert Rafols-Casamada, Michel Coutureau, Anna Mark, Jan Voss, Hans Schimanski

On view from Paul Pagk: A large painting "The Duke" and five drawings.
Artists in NYC is a documentary film released on June 2019. It explores what it means to be a visual artist living and working in New York City. The artists have traveled from across the country and around the world to make New York City their home. All of the artists have exhibited domestically, and many have shown internationally. Some artists are in museum collections, others have been in prestigious art fairs and biennials.
The Artists: Alfredo Salazar-Caro, Alteronce Gumby, Anki King, Brett Wallace, C. Michael Norton, Coby Kennedy, Cordy Ryman, Daniel John Gadd, Etty Yaniv, Federico Solmi, Grace Roselli, Greg Haberny, Heather Morgan, Hyon Gyon, Katherine Bradford, Loren Munk / James Kalm, Michael David, Paul Pagk, Phong Bui, Pat Phillips, Rosalind Tallmadge, Vieno James, William Robertson
The Musicians: Bob Dylan, John Coltrane, Sun Ra, Ahmad Jamal, Joseph Arthur, and a variety of new and younger blues, hip hop, and rap artists.
Produced by Sanja Frank and Terence Donnellan- Directed by Terence Donnellan
TRAILER: https://www.artistsinnyc.com VIMEO: https://vimeo.com/ondemand/artistsinnyc DVD: http://kunaki.com/Sales.asp?PID=PX00ZPPK92
Recent Exhibitions
. PAREIDOLIE 2019, Marseille, France - International Contemporary Drawing Fair - Galerie Eric Dupont- 08/30 to 09/01/ 2019
. Summer Show, Galerie Eric Dupont, Paris - June 28 - August 31, 2019
Summer Show, Galerie Eric Dupont, Paris
left to right: Nicholas Nixon, Paul Pagk, Pascal Convert
Solo show INTERACTION, Galerie Eric Dupont, Paris - March 23 - May 11, 2019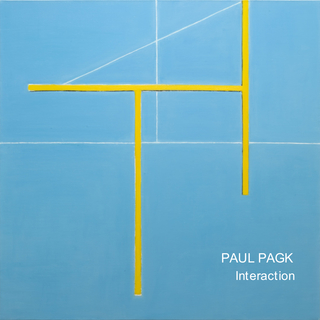 Book Interaction - available on Blurb
Text "Labyrinths of Perception" by Meriam Korichi
Courant à Contre Courant, Collection Quasar, Peyrehorade, France - March 2018
Paul Pagk, 1994 (Oil on linen, 165 x 165cm)
Group show: Pierre André - Vincent Barré - François Boisrond Joël Brisse - Pierre Buraglio - Damien Cabanes Roland Cognet - Noël Cuin - Christophe Doucet Daniel Gerhardt - Lionel Godart - Toni Grand François Jeune - Joël Kermarrec - Jean-Yves Langlois - Bertrand Lavier - Konrad Loder François Martin - François Mendras - Pierre Nivollet - Bernard Pagès - Paul Pagk Jean-Pierre Pincemin - Jean-Claude Pinchon François Priser - Miguel Sancho - Christian Sorg Dominique Thiolat - Florence Valay Claude Viallat - Julião Sarmento